New Sync Hack, 9.2.1 Release, & Hardware Surprise…
Hello FreeNAS users!
As a token of our love, please accept this newsletter update!
A lot of things happened last month and we're bursting with excitement to share them with you! First off, FreeNAS 9.2.1 was released! We've also got a very special announcement we're dying to tell you, but you'll have to read on for more about that.
For those of you who are FreeBSD aficionados, we think you'll be interested in a new publication called FreeBSD Journal. Also in this issue, find out how you can help the FreeNAS project! We've got a few job openings and we're always looking for more testers. We've also added a method for you to submit your own FreeNAS content. As always, there's a ton of builds and tutorials for you in this edition.
Love,

The FreeNAS Team
---
FreeNAS 9.2.1-Release is Out!
It's been less than a month since the release of FreeNAS 9.2, and FreeNAS 9.2.1 is already available. Our dev team has been working around the clock (for mysterious reasons) to get this one out the door. Here are a couple of reasons why you should update:
Improved hardware & software support
Improved ZFS performance
Upgrade to Samba 4.1.3
Almost 200 bugfixes
The full release notes can be found here. Sign up for the announcements mailing lists to get updates on new releases as they happen.
We are very proud of this release and the hard work that has gone into it. We are also tremendously grateful to the many people who have taken the time to file bugs, fix bugs and send us pull requests, post helpful comments in the FreeNAS forums, or otherwise be a part of the ever-growing FreeNAS community. We hope you will install 9.2.1 at your earliest opportunity – we have been running it in production for some time and are very happy with the level of "fit and finish" in this release!
---
We Love Bug Report(er)s
We're always looking for people to test and report bugs on FreeNAS so we can make improvements and make sure it's in perfect condition. We're happy to say that we've fixed a LOT of bugs since 9.2.0 was released. Lots. You folks have been going crazy with finding and filing the bugs every day! Since 9.2.0 was released, we have fixed over 189 bugs, added new features, polished the UI, and improved the performance of FreeNAS even further!
Should you encounter any bugs in 9.2.1, or wish to submit enhancement requests, please visit http://bugs.freenas.org and by all means file a bug! We use the bug tracking system quite religiously and screen bugs on a daily basis, so filing a bug report is the best way of making sure that any issues do not get lost! Since no release engineering process is ever truly finished, we are already planning for 9.2.2 and will aim to fix any "fit and finish" bugs we deem appropriate for the next software update. Make sure you note in your bug report which version of FreeNAS you saw it in and also note the datestamp of the build, since we will continue to release nightly builds and it's otherwise very hard to tell which build you saw the problem in if you don't tell us.
---
---
Announcing the *NEW* FreeNAS Mini
Drum roll please! After much speculation and wild guessing, we're proud to officially announce the imminent release of a new FreeNAS Mini. These systems are configured so that they are the best-performing home NAS you can buy. The upgraded Mini is more powerful and robust thanks to these new features:
8-core Intel 2.4GHz processor
16GB of ECC memory (with an option to upgrade to 32GB)
On-board dual Gigabit network controllers
Dedicated IPMI port
Hot swap capabilities for the tool-less drive bays
We're already taking orders, and models will begin to ship in the next couple of weeks. Contact us now to get one of the first ones off the line.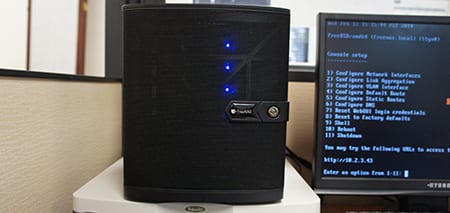 ---
New FreeNAS Schwag in the Mall
By popular request (and some outright demands), new FreeNAS t-shirt designs are now available for purchase in the mall. Be sure to check out the other schwag that's up for sale while you're there. Sales support the FreeNAS and the FreeBSD projects.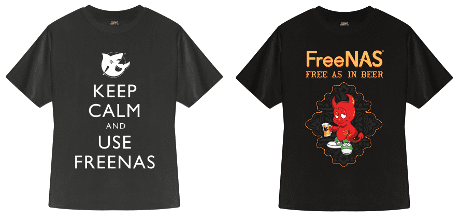 ---
Sync Hack – Setting up FreeNAS with BT Sync via BitTorrent
BitTorrent recently published a tutorial from our very own Ben Milman about setting up BTSync on FreeNAS. This is not the first post BitTorrent has shared about using BTSync on FreeNAS, but since then, we've made a plugin for the service so the setup process is much, much easier. You may know Ben as one of the co-authors of another guide from Admin Magazine. If you enjoyed the other article or if you're interested in setting up the plugin on your own system, be sure to give this one a read.
---
FreeNAS Hardware and Software Guide via Tek Syndicate
Tek Syndicate recently uploaded a two-video series featuring FreeNAS. The first video shows off their hardware build, which they've dubbed "NASFeratu". The second is a tutorial about the actual software itself and covers several features including a range of plugins that are accessible in FreeNAS. Both videos are very comprehensive and provide good information for anyone who needs help building and setting up FreeNAS. We definitely recommend you take a look.
---
FreeNAS featured on Know How… via Twit.tv
A recent episode of Know How… featured FreeNAS with the famous Patrick Norton and Fr. Robert Ballecer. Patrick has a long history with us, back from his days at Tekzilla to his more recent video on DIY Tryin. On this episode, the hosts demonstrated the steps needed to install FreeNAS and covered hardware and RAID options. For an entertaining tutorial on the basics of setting up your own FreeNAS system, check out this video.
---
Need a job? We need people!
If you've been reading about all the great things we've been up to and thought to yourself, "Hmm, I wish I could be a part of that", well… now you can be!
iXsystems, the company that sponsors the development of FreeNAS, is looking for a system administrator and a few good developers to join our team. We offer competitive salaries, health benefits, stock options, 401k, and access to a fancy-schmancy coffee maker as some
of the benefits. We're a very prominent company in the world of FreeBSD; in fact, we employ more FreeBSD developers per capita than anyone else you can think of.
Interested? The full job descriptions can be found here. If this sounds like your cup of double-shot espresso, email Jordan Hubbard at jkh@ixsystems.com with your resume. Cover letters appreciated but not required.
---
Tech Tip #3
Backups are more than just data. Document everything!
---
Links of the Month
DIY: Building a ZFS NAS with FreeNAS via proligde's WordPress
DIY NAS: 2014 Edition via Brian Moses's Blog
ZFS – One File System to Rule Them All via Lease Web Labs
---
User Submissions
Got a FreeNAS hardware build you're proud of? Come up with a tech tip while tinkering around in the GUI? Have a link or picture you think we should see? As long as it's not something you wouldn't send to your boss, we'd love to hear from you. Drop us a line at FNsubmissions@ixsystems.com. We're always on the lookout for things to feature in the newsletter and on our social media channels.
---
Connect with Us
If you need help with your FreeNAS setup or would like to show off your configuration, share your plugins, or just talk with like-minded people, join the conversation on our community forums. For video tutorials, check out our YouTube channel.
Want real-time updates as they happen? Like us on Facebook, follow us on Twitter, or add us to your Google+ circle!