Backup Evolved: Asigra Plugin for FreeNAS
Hundreds of thousands of FreeNAS systems are deployed around the world and can now be used as a turnkey backup solution with Asigra! Users can run the Asigra Plugin for FreeNAS to enable fully agentless backup of all the devices on their network.
Asigra automatically gathers data from desktops, laptops, servers, mobile devices, and even cloud sources. Backup data is compressed, encrypted, and deduplicated before being sent to your FreeNAS system for safekeeping.
Asigra also incorporates a sophisticated signature-less malware detection engine that identifies and quarantines unauthorized or malicious embedded code, including unknown and zero-day attacks, from penetrating backup and replication streams. By continually scanning backup data, ransomware attacks can be detected and prevented automatically.
Asigra Backup Features
Full range of backup sources

Fully agentless backup

Global data deduplication

Full encryption with FIPS support

Defeats ransomware attack loops

Rapid restoration

Automatic file versioning

Point-in-time restoration
For details, please refer to the datasheet.
Free Community Version
The Asigra Plugin for FreeNAS is free to download and use without any purchase or contract along with FreeNAS version 11.2-U4! The Asigra Plugin for FreeNAS provides backup capability for up to 10 systems and 10 cloud accounts at no charge, which is perfect for small businesses or as a trial of the Asigra functionality for broader use. The free license of the Asigra Plugin for FreeNAS is available with community-based support.  Fully-supported Asigra subscription services are also available for larger enterprise use.
The standard Asigra license is based on the number of systems and cloud accounts backed up. For information about pricing, please contact Asigra at info@asigra.com.
Asigra for Enterprise Use
Asigra on TrueNAS enterprise storage systems was released in September 2018 with version 11.1-U7. Since that time, many enterprise customers have deployed Asigra TrueNAS systems to back up their critical infrastructure.
How to Install
A typical small business deployment for the Asigra FreeNAS plugin will look like the diagram below. The Asigra plugin on FreeNAS acts as the DS-System (Storage Target) and an Asigra DS-Client (Backup Agent) is deployed as a VM on a server or on a FreeNAS unit.  The same FreeNAS unit can also perform both Asigra functions for a small business environment.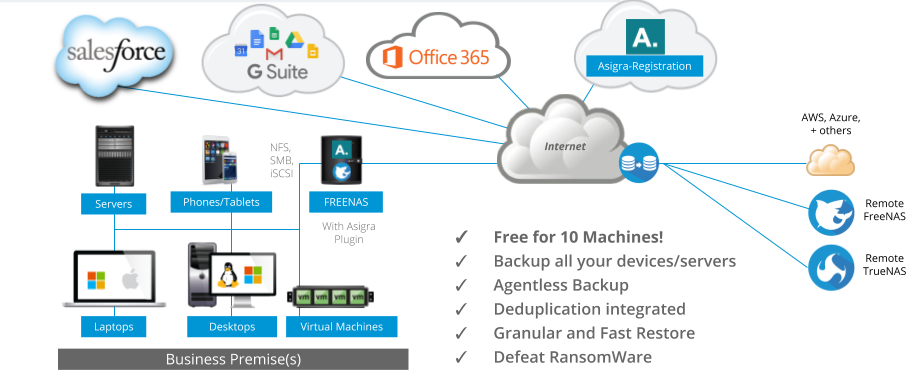 The Asigra Plugin for FreeNAS is installed like any other FreeNAS plugin. First, ensure that your FreeNAS system is running version 11.2-U4. After you've done that, log into your FreeNAS web UI, expand the 'Plugins' menu on the left navigation bar, and click 'Available'. Find the 'Asigra' entry on the Available Plugins list, click the three dots on the right-hand side of the row, and select 'Install':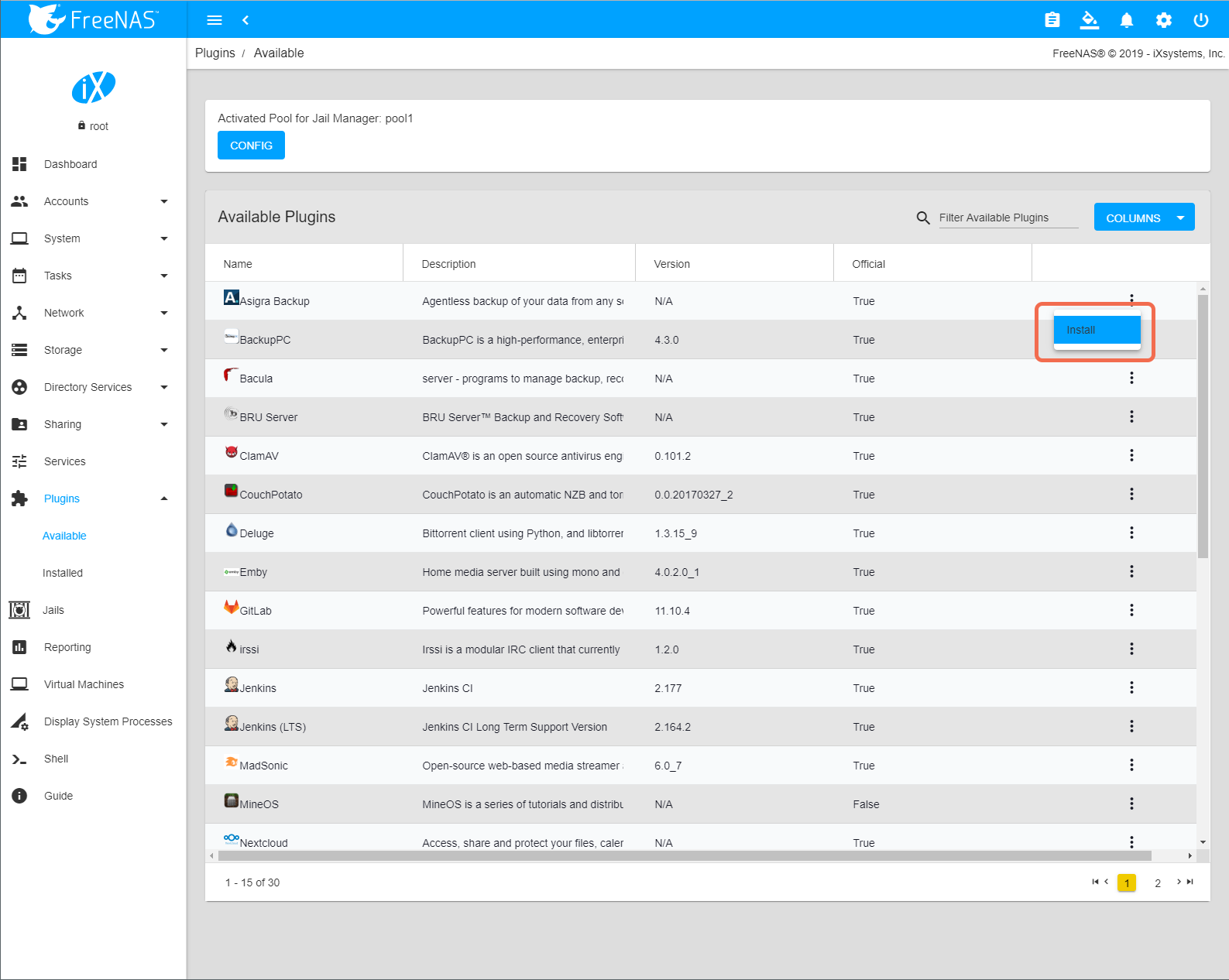 On the plugin configuration screen, you can optionally configure additional settings for the Asigra DS-System plugin jail. Click "Save" once you're finished:
Important Note: Several FreeNAS users have reported an issue with the current version of the Asigra plugin that prevents them from connecting to the Java management interface. As a temporary workaround, users should set a static IP address for the plugin's jail on the screen below. To do this, uncheck the "DHCP" box, select an IPv4 interface, and populate an appropriate IP address and netmask.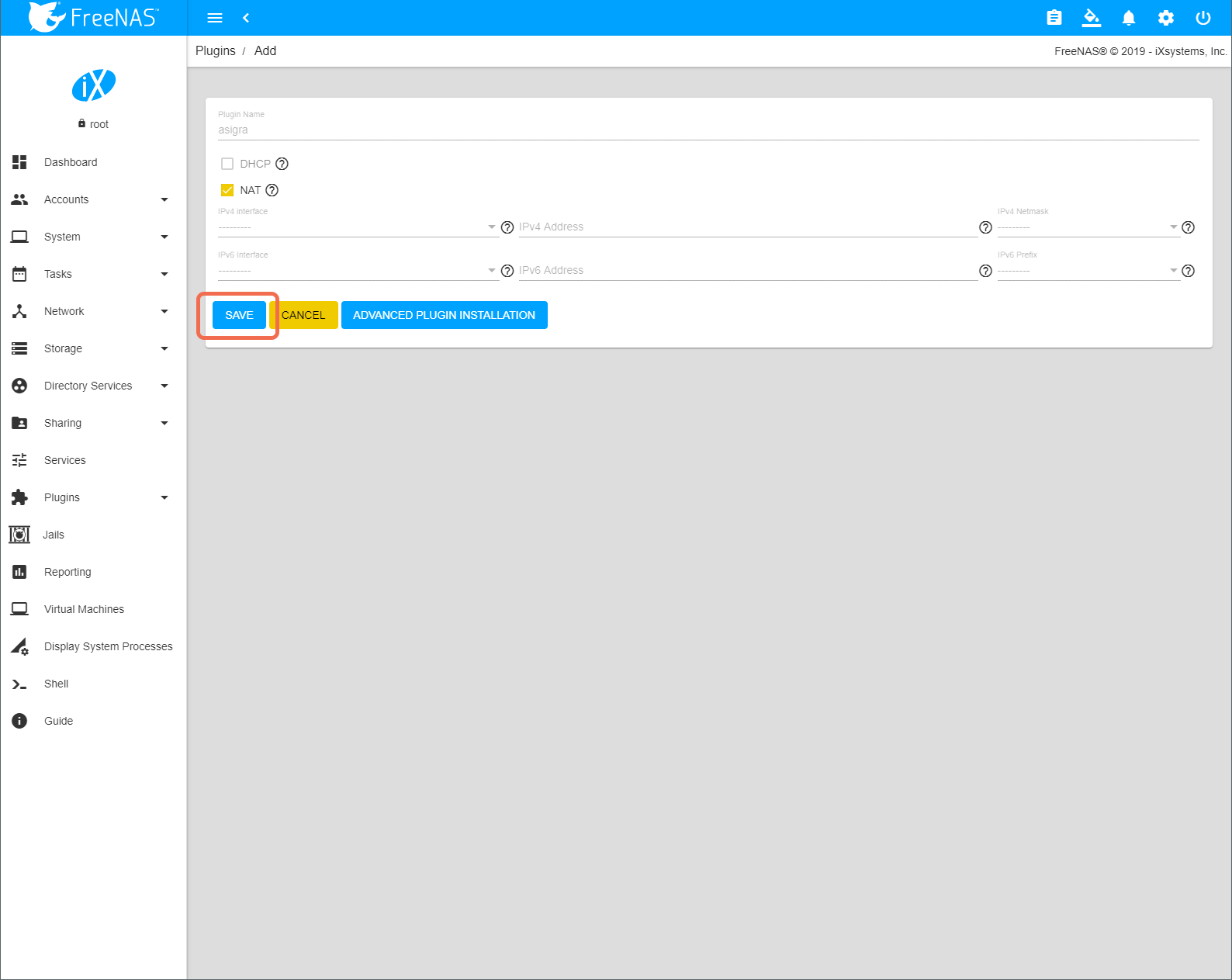 Once the installation is complete, select 'Available' from the 'Plugins' menu on the left navigation bar and the Asigra plugin will be listed. You can click the three dots on the right side of the row to control the plugin. Start by selecting "Register" in this menu to create your free trial login information on Asigra's site. You can then launch the Management interface by selecting "Management":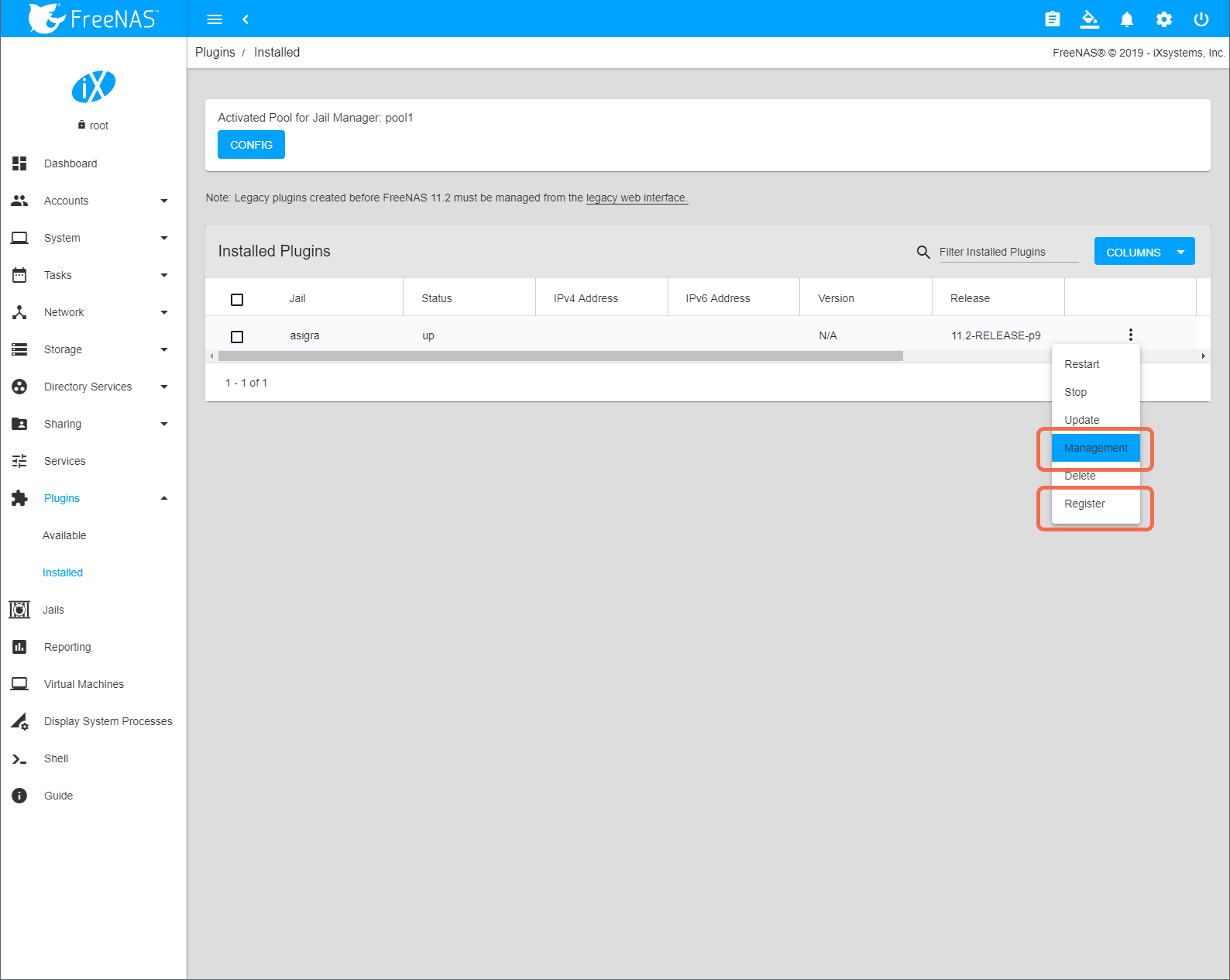 This will download and launch the Java-based DS-System management interface (DS-Operator) and you can begin your Asigra setup!
For additional information on using the Asigra platform, please refer to the following user guides:
DS-Operator Management Guide

: This guide covers the management of the DS-System service running in the FreeNAS plugin using the DS-Operator interface (accessed through the "Management" link on the plugin listing).

DS-Client Installation Guide

: This covers the installation of the DS-Client system which aggregates backup content from endpoints and transmits it to the DS-System service.

DS-Client Management Guide

: This covers the management of the DS-Client system once it has been successfully installed at one or more locations.
FreeNAS and TrueNAS with Integrated Asigra Backup
iXsystems is committed to providing the community with an excellent open source platform for storage and plugins. FreeNAS is increasingly popular with home users, in labs, and with SOHO deployments, while TrueNAS appliances continue to deliver great value to enterprises, universities, schools, studio design houses, and other organizations. With Asigra backup now available on both platforms, everyone can enjoy enterprise-grade backup with turnkey simplicity!