10TB of All-Flash for Under $10K: All-Flash Storage is Within Reach for SMBs
Time is money. When we heard that small and midsize business (SMB) customers were left behind when others deployed expensive all-flash systems, we decided to do something to help. So, after months of design and testing, we're proud to announce the new FreeNAS Certified Flash all-flash storage system. It's everything you've grown to love about FreeNAS in a 2U and performance-tuned all-flash storage system that can be had for less than a dollar per gigabyte!
The FreeNAS Certified Flash is an all-flash array (AFA) available in capacities from 1TB to 100TB. Like all FreeNAS systems, the FreeNAS Flash gives you a unified SAN/NAS architecture, ensures your data is safe with OpenZFS, and provides you with enterprise-class storage features.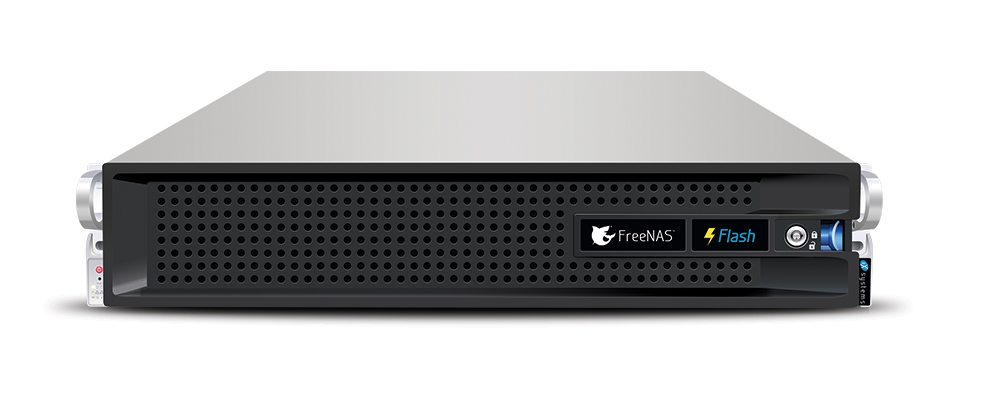 The FreeNAS Certified Flash storage array's advanced features, including thin provisioning, a self-healing file system, snapshots, replication, and in-line storage optimization via compression and deduplication, provide you with hyper speed Open Source storage without the expensive add-on features. Its 26 SSD drive bays give you the room to grow and its storage optimization technology allows it to achieve storage consolidation ratios of 2.5X-10X in heterogeneous environments. This means that you can store up to 1PB of effective data capacity in a 2U storage array.
From the start, we have focused on providing a powerful yet cost-effective solution. With a high-end Intel Xeon E5-2600v4 processor (quad core, 3.5GHz!) and 128GB of RAM, no performance compromises were made along the way. There are three different flash endurance options depending on workload and read/write mix. There is a read-intensive flash configuration, a configuration for mixed workloads, and a write-intensive flash profile, all capable of performance up to 300K+ IOPS using a 16K block size. We design for the exact number and type of SSDs you need now and let you add more when you need it later. In short, we want to build a system that fits your precise needs so that you don't have to pay for more than you need.
Digging into the architecture of these systems, the FreeNAS Flash is designed around best practices for I/O, throughput, and latency. For example, we have eliminated performance crippling, latency-inducing SAS expanders used by so many other SAS vendors. We use multiple SAS host bus adapters to address the 26 x 2.5″ SSD drive bays individually, which supplies every single SSD with the maximum 6Gb/s of bandwidth. We also wanted to make the FreeNAS Flash systems as reliable as possible, so FreeNAS is installed on redundant internal boot devices, making every drive bay available for primary storage and hot spare drives. This maximizes your RAID configuration options as well, allowing you to optimize for performance, capacity, or redundancy, or we can help you find a happy medium.
Customers who need more than 100TB of flash, or need professional support and high availability, can move their data to a TrueNAS Z50 TrueFlash all-flash array, which provides up to 400TB of flash. Its UI has the same familiar look, feel, and features as the FreeNAS Certified Flash storage array and is compatible as a replication or migration target. This protects your investment and eliminates many of the data migration problems that occur when moving to a different storage platform. All this makes it affordable to move to all-flash today without having to revisit your choice in the future.
Small businesses, we've heard your call and we've answered. All-Flash arrays are now within your reach! To hear more about the FreeNAS all-flash storage system email us at sales@ixsystems.com or call us at 1-855-GREP-4-IX (1-855-473-7449) to discuss your flash needs with one of our solutions architects.